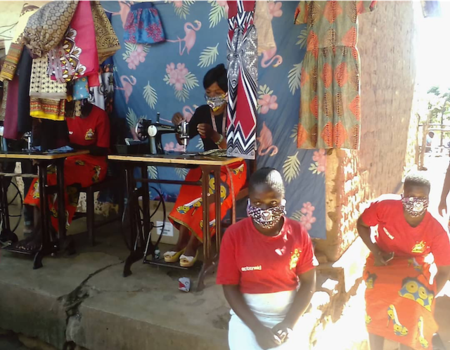 Investing in a girl child is a catalyst for youth development. Every nation must make strides towards empowering the youth socially and economically, especially adolescent girls and young women.
These AGYWs face numerous challenges like gender-based violence, teenage pregnancy, early marriages, HIV/AIDS and access to sexual reproductive health rights, etc.
Adolescent girls and young women in face mask training
Through the Quick Impact project by the Norwegian Church Aid (NCA), 27 AGYWs drawn from TA Nchilamwera, Chimaliro, and Nanseta were trained in face mask making.
Days were gone were girls underrate themselves. One of the project's beneficiaries, Harriet Yobe, a 22-year-old girl of Chidothe TA Chimaliro, has done it. She managed to mobilize her fellow girls in the Chidothe girls club and trained 32 girls on face mask production. Right now, they can make face masks and sell each at five hundred kwacha.
The life and social-economic status of Harriet Yobe and her friends have improved tremendously. They can buy basic needs in life, of which it was difficult in the past.
In summary, many think the youth are the future leaders of tomorrow but are leaders of today. With capacity building, technical, material, and financial support, they can achieve a lot.
Therefore, I appeal to donors, well-wishers in the country, and globally to help Malawian youth be more productive and achieve what is in Malawi Growth Strategy and Sustainable Development Goals.